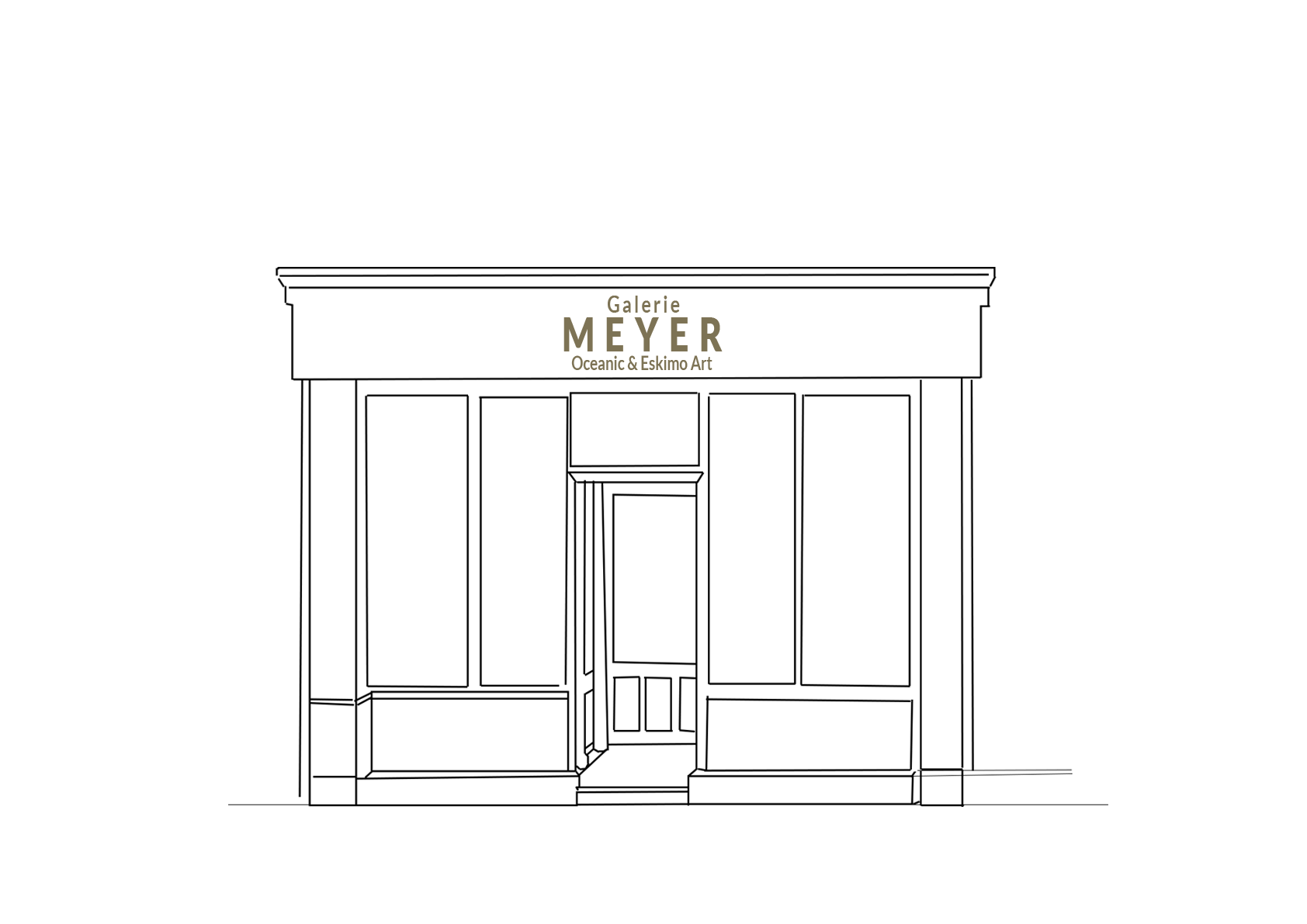 Son of renowned antique dealers, Anthony JP Meyer has specialized in the traditional and ancient arts of Oceania and the Arctic Circle for over forty years. He is the author of numerous thematic catalogs including an important work on Oceanic Art published in 1995.
HONNEUR AU BOIS – sculpture . sculpteur
Opening on Thursday April 6 - until Saturday May 27.
Master-carver's wood working adze, or toki
Rarotonga or Mangaia Islands, Cook Islands, Polynesia
Basalt, coconut fiber, fish skin, wood. 
55,65 cm.
18th/19th century. 
An inscription in black ink script on the shaft « Indian Adze ». 
Collection of the French Naval Capitaine de Frégate Jean Albert Riondel (aka Albert Riondel) 30/06/1830 at Aron, 3/12/1914 at Nantes. By direct descent. Acquired from a member of the family. Previously unrecorded.
Price on request
Top ornament from a main support-post of a sacred Men's-House 
Murik Lakes and Mouth of the Sepik River, PNG, Melanesia
Wood (vitex cofassus) with a very fine patina of age and exposure.
107 x 42,5 x 20 cm.
19th/20th century. 
Provenance : Marienburg Mission, PNG, possibly field collected by Rev. Father Franz Kirschbaum before 1939 and sold from the mission store to Philippe Dodier through the auspices of a French butterfly and orchid dealer in the 1960's. Ex coll : Philippe Dodier, Avranches ; H. & P. Leloup, Paris ; sold Sothebys London, lot 120 the Leloup collection, 16 June 1980 ; sold Loudmer-Poulain, auctioneers, Paris, lot 17, 24/6/81 ; sold Audap-Godeau-Solanet auctioneers, Paris 10 November 1989, lot 153 ; Ex coll. : Pierre Robin, Paris ; Ex Dutch private collection; Ex David F. Rosenthal, San Francisco.
Price on request
Pentecost, Maewo or Aoba Islands, Vanuatu, Melanesia
Hard reddish wood (possibly casuarina) with a dark glossy patina of age and use. 71 cm.
XVIIIth/XIXth century.
Ex collection Lillian & Leo Fortess, Kaneohe Bay, Hawaii;
Private collection, Switzerland.
Pub. : Südsee-Ästhetik, Zeichen von Macht und Würde, Zug, The Huberte Goote Gallery, 2000. 
CASSE-TÊTE II. Galerie Meyer, 2022, pp. 90/91.
Price on request
This item will be exhibited at : HERITAGE – Arts Premiers & Art Moderne
A collective exhibition, April 13-22, 2023